The Candy Shooter Gun was first released in 1965.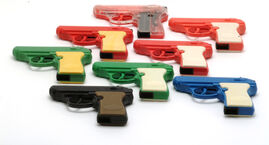 Information
Edit
This dispenser can be found in a vast amount of different colors.
John LaSpina's Variety Guide
Edit
Baby Blue, White Cap
Blue, White Grip
Blue, Yellow Grip
Black, Brown Grip
Black, Tan Grip
Black, Yellow Grip
Green, Yellow Grip
Green, White Cap
Orange, White Grip
Red, White Grip
Red, Yellow Grip
Half Transparent and Half Red
Black, Brown Grip, "Ford Hinteregger" on Grip (Advertising Gun)
Ad blocker interference detected!
Wikia is a free-to-use site that makes money from advertising. We have a modified experience for viewers using ad blockers

Wikia is not accessible if you've made further modifications. Remove the custom ad blocker rule(s) and the page will load as expected.