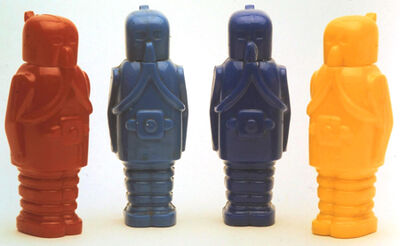 The Full Body Robot was introuced in 1955. It is one of the few dispensers that feature a full body instead of a stem.
Information
Edit
These dispensers are about 3 1/2 inches tall. The gold version is the toughest to find, worth over $2,000!
John LaSpina's Variety Guide
Edit
Blue (No "MADE IN AUSTRIA" on Robot)
Light Blue
Medium Blue
Navy Blue
Gold Plastic
Gold Plated
Medium Red
Dark Red
Yellow
Ad blocker interference detected!
Wikia is a free-to-use site that makes money from advertising. We have a modified experience for viewers using ad blockers

Wikia is not accessible if you've made further modifications. Remove the custom ad blocker rule(s) and the page will load as expected.